Get Your Clinch Knot Minnow Swarm Premium Fishing Lures Recommended by Thousands of Happy Customers
catch more fish & bigger fish
NOTE: Must Be Strong Enough to Reel in More Than 1 Fish at a Time
(fully rigged - just attach to your pole)
Clinch Knot Minnow Swarm
Get This Hand-Tied Fully Rigged Minnow Swarm Delivered to Your Door with Free Shipping!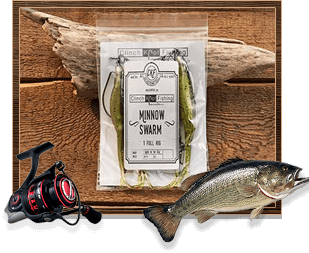 Over-the-Shoulder Video Instructions on Tying to your Main Line  - Comes pre-packaged fully ready to hook onto your pole and go
Hand-Tied with 15 lbs Pline Fluroclear Fishing Line - so it becomes invisible in the water (moss greed braided line pictured)
Solid Construction - Rigged in a way that makes it almost impossible to tangle- we've tried
Adjustable & Adaptable  - Able to use different lines, weights, hook sizes, & swivels for different species of fish
Our Top Rated PDF - Download rigging guide, print it out, & keep in your tackle box if you want
Don't Miss This Awesome Fishing Lure Normally $49.95 On Special Discount For a Limited Time! Just $24.95 and includes Free Shipping! Grab Yours Before the Timer Ends!